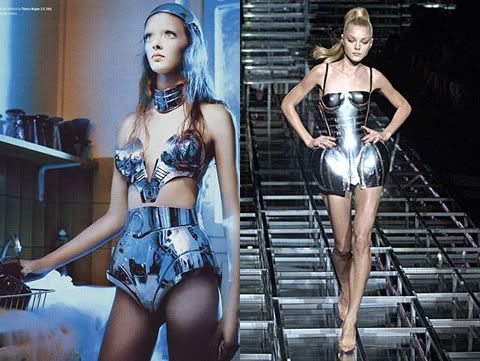 Bad me! I haven't been posting lately, then I do two in the space of two days.
This irregularity ain't good for a blog, methinks.
Mi compadre Danielle from
Dolly Q
spotted Lady Ga Ga's dalliance with metal couture and gave me a heads up on it.
Its a Dolce and Gabbana corset that was sent over especially to the US for Lady Ga Ga's latest clip.
Personally, I'm not really a Lady Ga Ga fan musicwise... hip hop/urban being one of the few areas of music I don't go, but I love how she plays with fashion in her profile, via the "House of Ga Ga" look.
I don't know how D & G made the corset, from what I 've heard about their previous corset, it could be chrome plated brass, so could be press formed, or if its a one off, it could be rolled out with an English Wheel.
This corset has been about a bit - another pic of it on the catwalk, with a Thiery Muegler metal couture piece on the left.
See the corset here in the "Papparazzi" clip - http://www.youtube.com/watch?v=QQJ9Vi8GLok